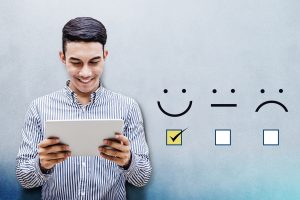 It's been found that getting good reviews online can increase conversions, boost sales, and benefit your search engine ranking.
But what if your customers just aren't leaving reviews?
Don't worry – you can fix it.
Following a few simple tips can dramatically increase the number of customer service reviews you receive, with very little investment of time or money.
Keep reading for our expert advice.
1. Ask Customers for Feedback Promptly
How often do your review a service you used weeks ago?
Chances are, not very often.
If you want to get good customer service reviews, you need to ask for them while you're still fresh in the customer's mind.
This could mean asking for feedback at the end of a callout, phoning customers the day after helping them to request a review, or sending an automated email asking for feedback at the end of each job your complete.
The faster you ask for a review, the more detailed and positive it's likely to be.
Leave it too late, and customers will have forgotten all about you.
2. Make It Easy to Leave Online Reviews
It's been found that 88% of consumers trust online reviews as much as personal recommendations.
Pretty impressive, right?
Make sure that you can benefit from online reviews by making it quick and easy for customers to leave them.
Setting up a Google My Business page is a smart way to boost your online presence and encourage reviews. You'll enter some key details about your business, which will then be displayed prominently whenever anyone searches for you.
Your My Business page will allow customers to leave reviews using their Google account, which is quick, easy, and convenient.
Alternatively, add a reviews page to your own website, and send a link to customers to encourage them to leave feedback.
Don't make review forms overly long or complicated, or nobody will bother to fill them in.
3. Offer Incentives in Return for Reviews
Why should customers bother taking time out of their busy schedules to review your company?
You need to give them a reason.
While offering great service encourages good reviews, going the extra mile to offer special incentives for customers who leave a review is even better.
You might offer a discount off their next purchase with you, access to a special reviewers-only offer, or the chance to try a new product or service.
Be sure to offer your incentive in return for honest reviews – reimbursing customers for fake reviews is dishonest and unethical.
How to Get Great Customer Service Reviews
If you want to take advantage of all the benefits that come with great customer service reviews, you need to put in a little work.
Blow customers away with your great service, and then ask for feedback as soon as possible. Make it easy for customers to leave reviews online, and offer incentives to increase the number of reviews you get.
Before you know it, your website will be filled with glowing praise.
Worried that you have bad reviews online? Get a free reputation audit today.