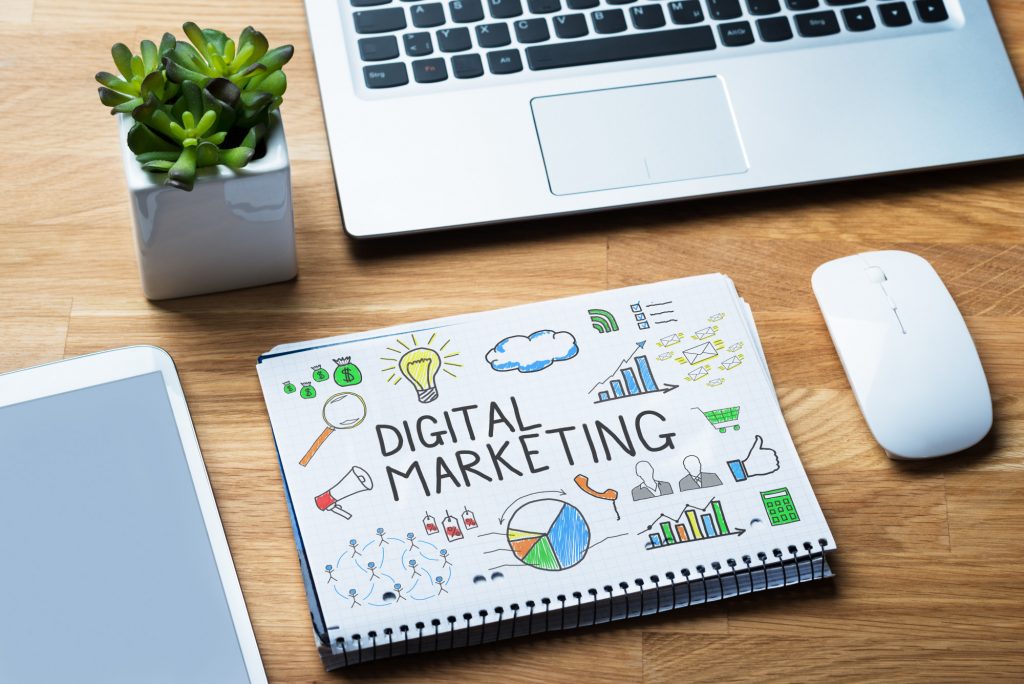 When it comes to the digital world, it is best to think about your brand and company as a top contender in a crowd full of noise. To get noticed, you need to make louder noise yourself to cut through all the competition of sounds around you.
Competition is fierce because every business has a website and blog. Everyone is chasing the SEO dream to get their website ahead of everyone else.
Here is a digital marketing 101 guide to ensure that you get your voice heard and have the best chance of standing out to generate sales.
What Is Digital Marketing?
The number of people who go online each day keeps increasing, and companies need to battle each other to get noticed. The way people shop and search for products has also changed because businesses are catering to every need.
A company can no longer rely on word-of-mouth advertising if they want to build a presence online. In the past, marketing was all about connecting with an audience at the right time and place.
Businesses need to meet new customers where they are already spending a lot of time and money. And that is the internet.
Digital marketing involves connecting with audiences who use technology. Companies need to leverage numerous digital channels, such as email, social media, and other sites.
This is essential because digital marketing and search engine optimization help you reach many potential customers compared to setting up a physical store. It is also cost-effective compared to traditional advertising, and you can measure how successful you are daily.
It is also much easier to target those most likely to buy your products, thanks to social media marketing. Instead of investing a lot of money on a billboard, the whole world can see, you can specifically target people who are genuinely interested in buying something from you instead of shooting in the dark.
How to Use SEO
SEO or search engine optimization must be a top priority to build your brand. This is also a cost-effective and long-term investment that will make you more visible on search engines.
If you master SEO tactics, you can generate traffic, increase brand awareness, earn more revenue, and drive several sales.
SEO is what makes digital marketing so measurable. You can track metrics, such as views and clicks, instead of never knowing whether people are reading your content.
The best part about SEO is that any company can join the game and take on its competitors. Even if you are a small family business, you can still outrank a significant competitor if you produce better content that your customers prefer.
This is because search engines focus more on the quality of content than the brand name.
Digital Analytics
While you are building a website, you can check how many people view your pages in real-time. You can see which pages they like to visit most, which electronic devices they use to reach your content, and a customer's location.
This helps to prioritize where to spend your ad budget. If you know that most of your customers are converting into sales from Instagram, you can stop spending so much money on YouTube ads and focus more on where your consumers are.
At the same time, if only 20% of your website traffic is coming from SEO, you will need to allocate some time and effort to increase those numbers. This will help your website rank on the first few pages of Google instead of being lost in the background.
Should You Dive Into Digital Marketing 101?
If you have a business or are considering starting one, your first move should be strategizing how to set up online. Digital marketing is crucial for every brand if they want to build awareness.
Since every business has a website, social media accounts, or both, customers expect that and rely on digital means to learn more about brands. To be a competitive business owner, you cannot skip out on certain digital marketing aspects.
Your customer may not trust buying a product from you if they see that you are invisible online. Many people refuse to spend any money on a product or service unless they can access product descriptions and customer reviews through their smartphones.
Digital Marketing for Beginners
There are a few types of digital marketing. These are search engine optimization, content marketing, social media marketing, pay-per-click (PPC), affiliate marketing, native advertising, marketing automation, online PR, email marketing, sponsored content, and inbound marketing.
You will find many guides that go into detail with examples for each of them. Depending on your goals, you may not need to use all these tools. The most common for most brands who are just starting out are SEO, social media marketing, content marketing, and PPC.
With SEO, you can get your website seen on search engines. Social media marketing is where you will need to create business profiles on platforms like Facebook, Twitter, Instagram, YouTube, and even TikTok if you target a much younger crowd.
PPC is a way of driving traffic to your site by paying a publisher every time your ad gets seen or clicked. Google Ads is the most common publisher most companies use.
This is where you can pay to have a top slot for your ad on Google's search engine results pages. Then you pay Google for each click a potential customer makes on your ad. You can also use paid ads on your social media channels.
Finally, marketing automation is all the rage because posting on social media consistently or sending email newsletters can be daunting on your own–especially if you have lots of customers to share content with.
However, many processes can be automated to save you time and money. Check out this guide about technology that manages marketing processes.
Convert Customers Today
It is necessary to have some fundamental digital marketing 101 insights to establish and grow your brand successfully. Companies that are not online can lose their customer's trust.
People shop and browse for everything through their phones or tablets. This is an opportunity that a brand should never miss. Therefore, it is time to go digital and to do it the right way.
If you enjoyed reading this marketing guide, check out some of our other articles for more information.