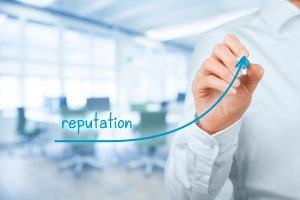 Making sure your company has a high reputation is essential to becoming successful.
Did you know that 84 percent of customers claim they consider the reputation of the company before making a purchase? This means that having a great reputation is definitely worth working towards.
Some companies have built up great reputations not only in the US but around the world too. There are many techniques that your company could learn from other companies that have successfully established a high reputation.
Let's take a look what you can learn from what 5 of the top companies have done to earn a great reputation.
1. Microsoft
The multinational tech company has developed a reputation as a committed corporate citizen.
From the Seattle-based headquarters, the Microsoft brand has extended around the world as a symbol of social and environmental responsibility as well as quality and excellence.
This reputation has been further helped by the company's founder, Bill Gates, prominent role in global issues, such as poverty and climate change.
2. Lego
The Danish manufacturer, Lego, is not playing around when it comes to having a good reputation.
They have been building the bricks of their reputation for many years. They are widely considered to have one of the best reputations globally for being a responsible and ethical company.
In addition to fair business practices and commitment to transparency and openness, they have demonstrated support for environmental and social causes. This includes a partnership with the World Wildlife Fund (WWF) as part of a sustainability agenda.
3. Rolex
The Swiss watchmaker has an unbelievably good reputation in the business world for quality and beautiful watches. However, they don't stop the watch with producing great products.
Rolex has a great reputation for providing customers with excellent customer service. The company is also involved in a number of socially responsible causes.
4. The Walt Disney Company
The Walt Disney Company is responsible for many magical on-screen moments for many families around the world. For many people, the media company cannot do anything wrong.
But this hasn't stopped them continuing to develop their reputation for creativity, innovation, and social and environmental responsibility.
5. Google
Remember the famous Google motto of "don't be evil"? This saying is something that makes the company different from many other online firms. Google is one of the most respected companies in the world.
As Google has come to dominate our everyday lives like few other companies, they haven't stopped building their reputation for doing the right thing.
In addition to high labor standards and a commitment to ethical business practices, Google is also involved in a variety of social, environmental and charity causes.
Developing Your Company's High Reputation
Following in the footsteps of the some of the most respected and widely known companies in the world is key to building the reputation of your business.
If you want to improve the reputation of your business, get in touch to take a free reputation audit today. We can help you improve your reputation!