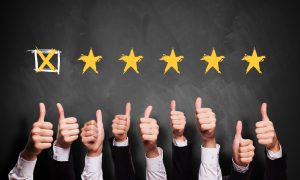 Are you making the most of Google business reviews?
Those five golden stars look great, but can you honestly say you understand their value to your business?
From consumer and seller ratings to third-party reviews, you can use all forms of Google business reviews to improve your digital reputation. But to do that, you'll need to know precisely why reviews matter.
Here are four ways that Google reviews can boost your business.
1. Increasing Consumer Buy Decisions
97% of consumers between the ages of 18-34 now read local business reviews online. That means that practically all young people are using the experience of your past customers to inform their buying choices.
In fact, reading reviews is increasingly becoming part of the standard buy cycle. Over 49% of consumers are more likely to use a local business as the result of a positive review score.
2. Providing a High Level of Brand Trust
88% of consumers trust online reviews as much as word-of-mouth and personal recommendations. That's a big deal when you consider word-of-mouth is still the number one method of recommendation for local businesses.
Certain review characteristics can bump the level of consumer trust, too. For example, to please 85% of consumers, you'll need at least 10 reviews.
As always, content is king. For the most benefit, you'll want positive, insightful, and varied ratings. The more recent reviews matter most too, so it's crucial that you remain consistent with your product or service.
3. Beating the Competition
We all want the most value for money.
But the truth is, the majority of your potential consumers don't have time for in-depth audits of many businesses. When searching for a company, consumers are instead likely to look for easily digestible, stand-out differentiators.
A higher average Google review rating is the easiest way for a consumer to assess you against your competitors.
4. Highlighting Where You're Going Wrong
Google business reviews can also be an insightful source of performance information.
Keep an eye on your reviews and look out for familiar trends. Are many customers unhappy with a particular aspect of your service or product? If so, use this information to make the necessary changes to your operation and strategy.
Similarly, you may find one aspect of your business is continually praised. This tells you that aspect is a high-value factor for customer experience. This review information can (and should), be used to inform your future marketing efforts.
Bonus Tip
Don't pay for (or write your own) reviews.
Reviews with a conflict of interest are violations of Google's terms of service. If your reviews aren't honest representations of the customer experience, they're likely to be removed.
Don't risk it.
Going Beyond Google Business Reviews
Google business reviews are an excellent tool for boosting sales and reputation. They can also help you to better understand the market.
If you're struggling with a negative reputation, boosting online reviews may not be enough. In that case, check out our five other ways to get started with reputation repair.
Remember, things can't be turned around overnight. Have patience and keep at it.
In the meantime, to find out exactly how you measure up, take advantage of a free reputation audit.