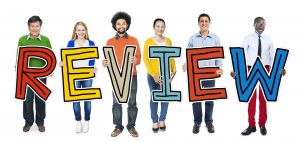 What do Millennials and free advertising have in common?
They're both excellent ways to get the word out about your escape room facility.
Oh, and did we mention they can be one in the same? Millennials practically invented user-generated content. In the entertainment arena, user-generated content translates to user reviews.
And the content included in a review is free advertising.
Millennials love giving authentic feedback. Sometimes like a raving fanboy or fangirl. Often like a salty Kanye. And sometimes with a critical, but kind, eye.
Reputation experts agree that each of these reviews requires an immediate response. Here are some tips and suggestions for managing user reviews for your escape room business.
Best Practices for Managing User Reviews
The Golden Rule of user reviews is to respond to every one of them.
Remember, a response to a review is content. The type of content your core audience, probably Millennials, wants to read.
The "This place was LIT!" Review
(LIT: Millennial slang for spectacular, exciting, very cool.)
This is the glowing review. Something every escape room company yearns for. It makes you want to stare at the 5-star rating and feel the positive vibes emanate from the computer screen.
Many owners make the mistake of leaving it there. There's no reason to respond to a good review, right?
Wrong!
Acknowledge the time and effort your customer put into writing the review. Let them know you read it, appreciate it, and can't wait to see them again.
Crafting a good response is just as important as responding to negative user reviews. Avoid the temptation to write a canned response.
Follow these simple steps for a quick, yet unique, reply:
Use their name in your greeting: "Hello, Joe"
Show gratitude for their comment: "Thanks for your spectacular/kind/generous review of The Escape Artist." (Tip: including the name of your business in the response is a subtle SEO hack.)
Do a quick one or two sentence recap of the comments: "So glad you found The 13th Floor intriguing and the clues helpful."
If you have something of value to offer, do it: "Don't forget to sign up for our newsletter. You'll receive a coupon for 20% off your next visit."
Conclude with another thank you: "Thanks again, Joe, for writing this wonderful review. We're glad to have you as a customer and look forward to your next visit."
Follow this easy formula and you'll have it down in no time. You'll craft a unique response and show customers they are important.
This online word-of-mouth is not only the best kind of free advertising, it also gives a ranking boost in search engine results. (This fact comes straight from the mouth of Google.)
The Legitimate Complaint
Stuff happens.
"My soup came out cold."
"The second clue was ridiculously vague."
"Left a message and never got a return call."
The worst thing you can do is try to justify, make excuses, or ignore the mishap. It should come as no surprise that honesty is the best policy. And a nice dose of apology doesn't hurt either.
As with a searing review, the temptation here may be to get defensive and fire back a rebuttal. What does that accomplish? You alienate the customer forever, and they edit their 2-star down to a 1-star rating.
The Volcanic Eruption
"If I could give a negative star rating I would!"
These are the negative reviews to be very careful with. Your first reaction is to defend your reputation. That's completely normal.
That's why this type of review is the one you DO NOT respond to right away. Allow yourself a cool-down period instead of blasting back a defensive response.
There are a few things to keep in mind as you brainstorm your response. Don't let emotion cause you to lose sight of the fact that these reviews are:
Written by paying customers.
Written by human beings with feelings (who, in the case of a negative review, often allow their emotions to get the best of them).
Written by people not afraid to voice their opinion to a large audience (that's why they wrote the review in the first place).
The best tact here is to craft a well-thought-out response in a timely fashion. Use a respectful tone. Do not attack the reviewer.
"We're sorry you feel this way, Joe, and regret the incident. It's not our normal way of doing things, so we hope someday you'll give us another chance."
The Reviewer Throwing Shade
Throwing shade is an underhanded way of criticizing an opponent or the competition. These types of sneak attacks attempt to soil a business's reputation, pretending to be an unhappy customer.
It's a competitive world in the online arena. Unfortunately, there are those who don't want to play fair.
If your research confirms this was written by a competitor or vengeful ex-employee, your response should be short, factual, and addressed to your current customers.
"Dear Valued Customers,
Regrettably, it has come to our attention this review is from one of our competitors. We have reported it to Google and hope to have the fake review deleted. We hope this person finds a better way to spend time promoting his own business moving forward."
Straight and to the point. Then leave it at that, but make sure to follow up on Google.
Tips for Avoiding Bad User Reviews
Avoiding a negative tick on your online reputation should be looked at as more of an offensive strategy, rather than a defensive one. Sometimes a negative review can be avoided by being aware of what's going on during your cutomer's visit.
Hello? Is Anybody Out There?
Sometimes a negative review really isn't about a product or service. Many times, it's due to customer frustration.
"The hours on your site say… and you weren't open!"
"Tried calling the number on your Google listing and got a busy signal. 10 times!"
You'd be surprised at the number of bad reviews based on incorrect information. This is the simplest fix of all.
I Didn't Appreciate the Way I Was Treated…
One survey reports that the way an employee interacts with a customer is a major cause of negative user reviews. 57% of customers say they wrote a negative review because of the way they were treated by a staff member.
As a business owner, it's your responsibility to ensure the people you hire to represent your company are professional, knowledgeable, and enthusiastic. This often comes down to receiving the appropriate training.
Before allowing a group of employees to run a puzzle room on their own, it's your job to observe them in action. Make sure they explain the rules in a clear, concise manner.
Bring on the Reviews
There are many names for user-generated content: authentic media, earned content, consumer-generated contribution.
User reviews fall into this category and what they all boil down to is genuine customer engagement.
The trend in reading user reviews from other customers shows the importance of managing your online reputation. To stay on top of your overall star rating, your company must conduct regular checks on a variety of different review sites.
Customer reviews offer benefits and are not something to be avoided. A solid response strategy combined with active monitoring of online reviews will help generate new business.
If your brand relies heavily on online reviews to draw in new customers, it might be beneficial to partner with a third-party review platform.
Let Reputation Results get your reputation on the right track with the first step: a reputation audit. Then we will actively manage your reputation to help you get more positive reviews.