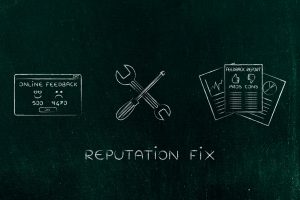 A good reputation is one of the cornerstones of a successful business.
This is critical to all of your branding and marketing efforts, which is the main way to push users through their buying cycle. Reputation management is especially important if your image has just taken a hit.
Such a setback could be a product recall, surge in consumer disappointment, or just bad PR.
Either way, you need to think of a reputation repair strategy – fast.
Here are the three simple rules of fixing your company's reputation.
1. Consider the Scale of Your Situation
Is the situation really as bad as you think it is? Or, is it even worse?
You won't know until you take a closer look.
Dig through online chatter and see what your internal metrics reflect.
Start with consumer reviews. These might be on your website forms, in emails, or on social media. Read as many as you can (preferably with the help of a team) and see what the common issues are.
Then, check engagement levels.
See if followers are still liking, commenting, and sharing as much as they used to. Check if sales or traffic numbers took a dip, too.
Some users will be verbal, others will quietly step back and lower their interaction frequency. Thinking like both kinds of consumers will give you a better idea of what's really going on with your reputation.
2. Push New Content
Once you've assessed the situation, it's time to shift the conversation.
Do this with new content.
Go to the Press
If you need some big-time reputation repair, start with a press release or press talk. This gets you out in front of the critics. It's your chance to say you hear the not-so-good feedback, and that you're taking responsibility.
From there, you can focus on improvement, and encourage consumers to follow the journey.
Get on Social Media
Not feeling a press tactic? Try social media.
Social media is your most direct way of reaching consumers through reputation ups and downs.
Create a new hashtag on Twitter to get direct feedback. Or, go live on Facebook or Instagram to be more transparent about what's going on behind the scenes.
Think of where you can get the biggest reach, and how to make it as effective as possible.
Talk to Industry Experts
Sometimes, the best reach comes with the help of someone else's authority.
Try guest blogging or doing an interview with an industry expert. Such platforms give you a chance to make your case, especially if users have already dropped their interactions with you.
3. Think Long-Term
As you're going through each of the reputation repair options above, keep the big picture in mind.
Your reputation is always going to be a part of your brand.
This means the most effective way to fight a bad reputation is to go above and beyond. When you're planning repair strategies, think of what you want users to associate with you next quarter or next year.
What kind of culture do you want to create for them? What feelings will come to mind when they first think of you?
Keep the answers to these questions at the heart of your repair process. Then, make sure they're still guiding reputation management down the line.
Start Your Reputation Repair Process
Reputation repair is not something to take lightly.
If you're struggling to get a handle on the situation, or don't have the time to deal with all the moving parts of a brand, we can help.
Contact us today to get your free reputation audit and talk about next steps!