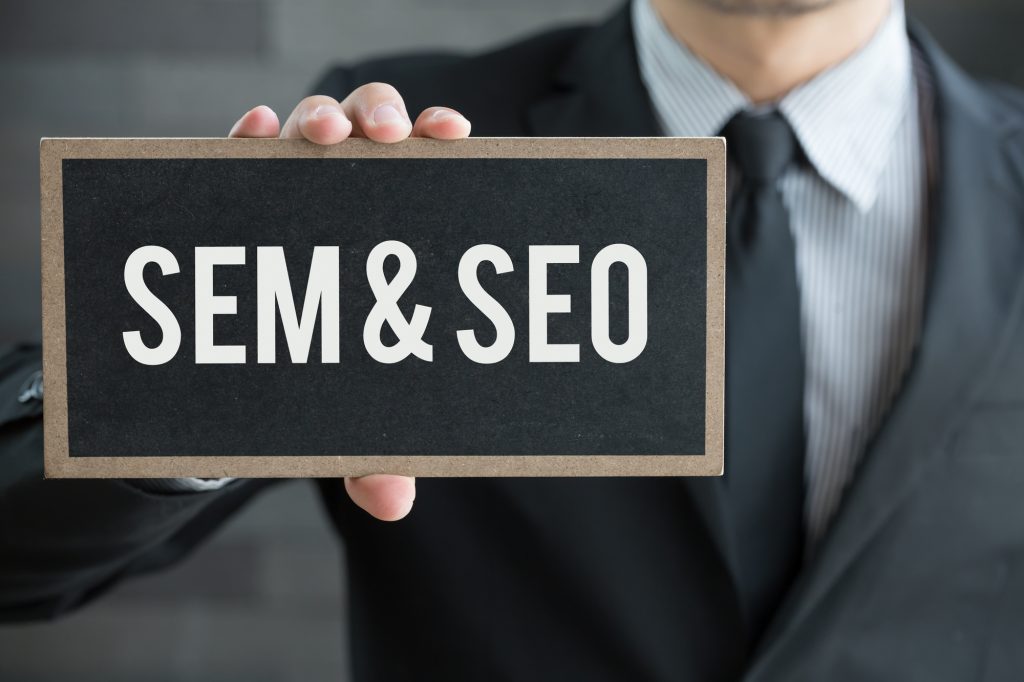 You know online marketing is powerful, and you want to get started with your business, but all of the terms can be confusing.
You've heard about both SEO and SEM, and they seem similar. You are trying to make sense out of them, and we are here to help.
Continue reading this article to learn the main difference between SEO and SEM and how to make them both work for you.
What Is SEO?
SEO stands for search engine optimization, and to put it simply, SEO is the act of optimizing your website content to rank high for certain terms in the search engines.
For instance, if you're an attorney and you want to rank for attorney in xyz city, you should put those words in your content strategically. You would also link back to that page to give the search engines signs that your content is relevant to that term.
There is a lot that goes into SEO, and we will review some of the best practices in the content below.
What Is SEM?
SEM stands for search engine marketing.
Search engine marketing is anything you do to get attention in the search engines. People usually use this term to describe paid strategies like Pay Per Click advertising.
SEM is pay-to-play while SEO is the unpaid, organic approach. Many people choose to pair the two since SEM gets faster results than SEO, while SEO gives you long term results without having to pay.
Using Best Practices to Promote Your Business
If you do decide that you want to use both strategies to promote your business, having this clear understanding will help you as you put a plan together. If you don't want to continue paying for PPC for years to come, you can use it as a jump start and then focus on SEO once you gain traction.
Let's go on and talk about some of the strategies you can use to see success using both of these methods.
Remove Website Elements That Slow Your Sight
When your website is super slow, it hurts your SEO and SEM efforts. It's especially harmful to ranking in the search engines, however, because speed is a ranking factor. Slow sights give visitors a poor user experience, and that's not what the search engines want.
The slower a page on your website is, the less likely it is to convert. If you're working with a company that does Phoenix SEO, they will tell you that speed is one of the important things they will focus on.
Create Super Relevant Pages
When you're building a website or having someone do it for you, you need to make sure that pages are super relevant. You don't want to have information about all kinds of different areas throughout your sight.
When you do that, you confuse people, you confuse search engines, and if you're using Adwords to advertise, you also ding your quality score.
While a ding in your quality score might not sound like a big deal—it is. When your quality score drops too low, Google might even remove your ads from the running. Besides that, even if they don't remove your ads, if your quality score is low, you're going to pay a lot more for ads than necessary.
When you create websites that are very targeted, your quality score will remain high, and people are more likely to convert. It's a win-win there, and let's not forget that it helps with your search rankings since it's easy for the search engines to know what to rank this page for.
Don't Be Afraid to Link Out
It's easy to get greedy and to try to keep your readers on your website. You might think that linking out to another blog is the worst idea possible.
The truth is that if it helps your website visitor, it's a good thing for you to do. Not only is it going to help you because you'll be able to provide value to your user, but it helps with SEO.
Linking to relevant and authoritative content shows the search engines that you associate with those websites. Think of it like hanging out with the cool kids in school. Since you hang out with them, it's likely the other kids are going to see that and think you're cool too.
In this case, the search engines are the cool kids that you're trying to impress.
Create Deep Content
Failing to create content that dives deep into a subject will hurt your SEO. You might want to get a lot of content out there so you can rank it all in the search engines, but quantity isn't better than quality if you have to sacrifice quality to get the quantity.
The better your content is, the more likely it is that you can rank that one piece of content for multiple terms. There is no need to create multiple pieces of content on the same subject to get search traffic from different keywords.
For example, if you're searching for search engine optimization vs. search engine marketing and you find this content, someone else could search for SEM defined or SEO defined and also find this content because it is relevant.
You might know these keywords as LSI keywords. LSI stands for Latent Semantic Indexing, and when you sprinkle a few related keywords throughout your content, this is going to get you the best results.
The Main Difference Between SEO and SEM – Now You Know
Now you know the main difference between SEO and SEM. You can use this knowledge to create campaigns in both arenas. When you do this, you'll be able to get even more results than when you're just focusing on one.
Do you want to learn more about digital marketing and other important topics? Keep going through our blog to get the insight and information you need.